At Cheshire and Wirral Partnership NHS Foundation Trust (CWP), our internationally educated nurses are a very important part of our clinical teams.
Our Pastoral Care Quality Award
In July 2023, Cheshire and Wirral Partnership NHS Foundation Trust (CWP) was awarded the prestigious NHS Pastoral Care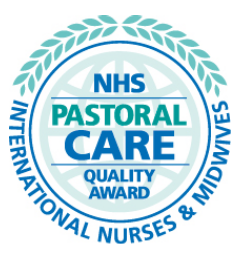 Quality Award for its work in international recruitment and for demonstrating a commitment to providing gold standard quality pastoral care throughout the recruitment and employment process.

Launched in March 2022, the national NHS Pastoral Care Quality Award scheme is helping to standardise the quality and delivery of pastoral care for international nurses and midwives across England to ensure they receive high-quality pastoral support.
NHS England presented CWP with the award for its work with internationally educated nurses (IENs) during the recruitment process and their employment.
---
Below you can watch a short video from Gary Flockhart, our Director of Nursing, Therapies and Patient Partnership, talking about why international recruitment is so important for CWP.
We have an international nurse recruitment programme to support our internationally educated nurses to make the move to the UK and transition to working for the NHS. Below Soni, one of our valued international nurses who joined us in 2022, talks about her own experience moving to the United Kingdom and joining the NHS.

Moving to a new country can be daunting but we will support you throughout the process including the three weeks training for your objective structured clinical examinations (OSCE) so that you gain your Nursing and Midwifery Council professional registration (NMC pin).
Our pastoral care lead Alison Reavy will support you each step of the way through your immigration journey to help you settle into your new role as quickly and as smoothly as possible. CWP offers an excellent support programme and recruitment package for international nurses. This includes:​​​
Band 5 agenda for change salary pay scale (pre-OSCE band 4 salary scale)

English language support

CBT exam fee

UKVI Certificate of sponsorship

Your international flights

Airport transfer to your training centre and accommodation

Your OSCE exam fees

Paid accommodation for the first 12 weeks

A food package to welcome you into your new home

Excellent ongoing training and preceptorship support
Once you are working for CWP we have many local benefits that we offer to all of our staff:
Generous annual leave entitlement (27 days plus bank holidays, rising to 29 days after five years' service and 33 days after 10 years' service)

Access to the NHS pension scheme

Eye test vouchers

Access to all our staff health and wellbeing services such as psychological support / occupational health and physiotherapy services

Cycle to work scheme

Free annual flu jab

Gym facilities
Hear from more of our international nurses
What can I say really? Honestly, the whole thing has been overwhelming in an amazing way. The recruiter from my home country (Botswana) has always been attentive to detail, effective and swift in doing her job. She was such a great communicator and supported me every step of the way. Then came VISA application and flight booking. Everything went smoothly and without a tussle. When I arrived at Manchester Airport, there was a taxi waiting to take me to Crewe, which was where the trust had booked accommodation for me for my OSCE training. They say first impressions last forever and it was a great experience. When I arrived in my accommodation, there were food packages and I had a private beroom with its own bathroom.

The trust paid for my OSCE sitting, which was a great honour. After the OSCE I moved to my job area, where the trust had paid for two months' accommodation. They helped me find accommodation in an area accessible to work via public transport and close to the town. Even at work, the reception was out of this world. Everyone so far has been friendly and very helpful. I am very thankful for my job. All the accommodation issues and other information that support my everyday living have been provided by one of our agents, Alison who has never failed to support us. She has been our superstar. Cheshire and Wirral Partnership has been the best. I've heard people saying that before, but I have had the chance to experience it for myself.

Portia, Registered Mental Health Nurse
---
The recruitment process was straightforward, and the team was very supportive and responsive throughout. Upon arrival, I received assistance with finding accommodation, registering with a doctor, and other essentials like buses and shopping. The OSCE training and exam were challenging, but the support and guidance from CWP made the process manageable.

Since starting work on the ward, my colleagues have been incredibly welcoming and supportive. The training sessions have been informative and helpful, and the preceptorship programme has been invaluable in helping me settle into my role. Having a point of contact for questions has been reassuring, and I feel that I have had all the support I need to provide the best possible care for my patients.

Overall, I have had a positive experience with CWP and would recommend it to other nurses considering coming to the UK.

Yankita, Registered Mental Health Nurse
---
Relocating to the UK at the same time being pregnant was really stressfull but when I came here it felt different because there was support and help from the very beginning and still is. I must say, the International Recruitment Team at CWP has helped me a lot with settling in - things like finding accommodation, registering with a GP and getting an appointment with a midwife for my early scans. I'd like to thank everyone in the International Recruitment Team for helping me with eveything.

Naveena, Registered Mental Health Nurse
Interested in joining our team?